BBQ Pulled Oyster Mushrooms
Looking for a delicious, high in protein meal, that's 100% Vegan? Well, this recipe may be what you are looking for. Providing the illusion of pulled pork these BBQ Mushrooms are a super easy and fast dish to make. We recommend serving them with our Vegan Mac N' Cheese and a fresh Sprout salad.
Ingredients:
1 pounds Oyster Mushrooms
1/2 tablespoons Garlic Powder
1/4 cups Coconut Aminos
1 tablespoons Coconut Sugar
1 pinches Cayenne Pepper
1 tablespoons Smoked Paprika
1 pinches Himalayan Salt
4 tablespoons Sunflower Oil
Preparation Time
30 min
Cooking Time
10-15 min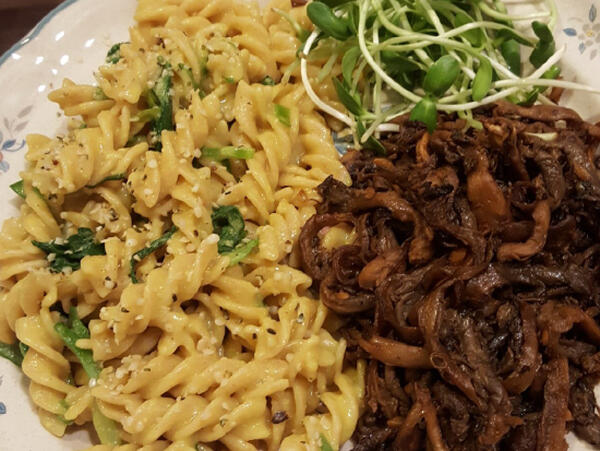 in a bowl combine paprika, cayenne pepper, salt, coconut sugar, and coconut amino to make a sauce

To pull mushrooms follow the natural shape of the mushroom from top to bottom

Saute mushrooms with oil and add garlic powder on medium heat.

When the mushrooms are fully cooked add the sauce to the pan, and reduce the heat to low.

Stir the sauce with mushrooms until they thicken and the mushrooms are evenly coated.