Amaranth and Quinoa Stuffed Peppers
Ingredients:
1/2 cups Amaranth
1/2 cups Tri-Color Quinoa
1/2 cups Green Lentils
1/2 cups Carrot ( grated )
2 Onion Greens (chopped)
2 tablespoons Sesame Seeds
2 tablespoons Apple Cider Vinegar
1 pinches salt
1 pinches fresh ground pepper
4 Bell Pepers
1/4 cups water
Preparation Time
15 mins
Cooking Time
40-50 mins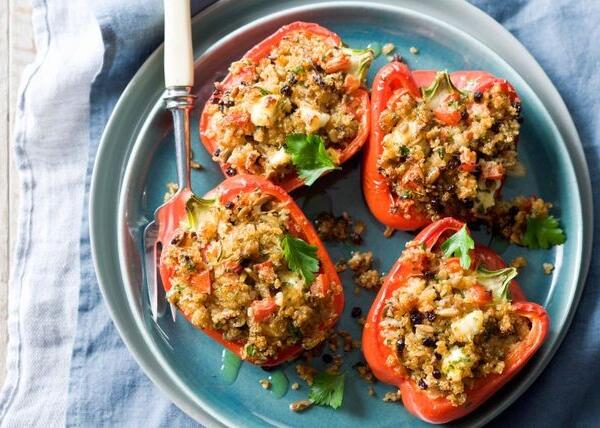 Pre-heat oven to 350°F

In a small pot, add quinoa and amaranth to 2 cups of boiling water.

In a large bowl combine the lentils, grated carrot, the chopped shallots, and sesame seeds.

Add to the bowl the rice vinegar and salt and pepper to taste.

Remove the tops and clean out the inside of the bell peppers. Stuff with the mixture from the bowl.

Place the bell peppers in a baking dish, add a 1/4 cup of water to the bottom of the pan. Cover with foil and place in the oven.

Bake at 350°F for 40 - 50 mins until the peppers are soft an tender.