Embrace the comfort of Indian flavors with a 25-minute curry that also happens to be vegan. This meatless main offers plenty of protein thanks to quinoa and chickpeas and boasts 40% of your daily fiber goal. Coconut milk lends velvety richness, while a mix of peanut butter and spices give the sauce rich flavor. A flourish of fresh herbs at the end brightens and freshens the dish.
Ingredients:
2 teaspoons Olive Oil
1/2 cups chopped red bell pepper
1/3 cups chopped yellow onion
3 cups chopped kale
2 teaspoons minced garlic
1 teaspoons curry powder
1/2 teaspoons ground ginger
1/2 teaspoons kosher salt
1/4 teaspoons black pepper
1 tablespoons creamy natural peanut butter
1 1/2 cups unsweetened refrigerated coconut milk
1 cups unsalted chickpeas ( canned, rinsed and drained ) or ( dried that haven soaked for 2 hours in water )
1 tablespoons fresh lime juice
1 cups cooked quinoa
2 tablespoons cilantro sprigs
Preparation Time
15 min
Cooking Time
10 min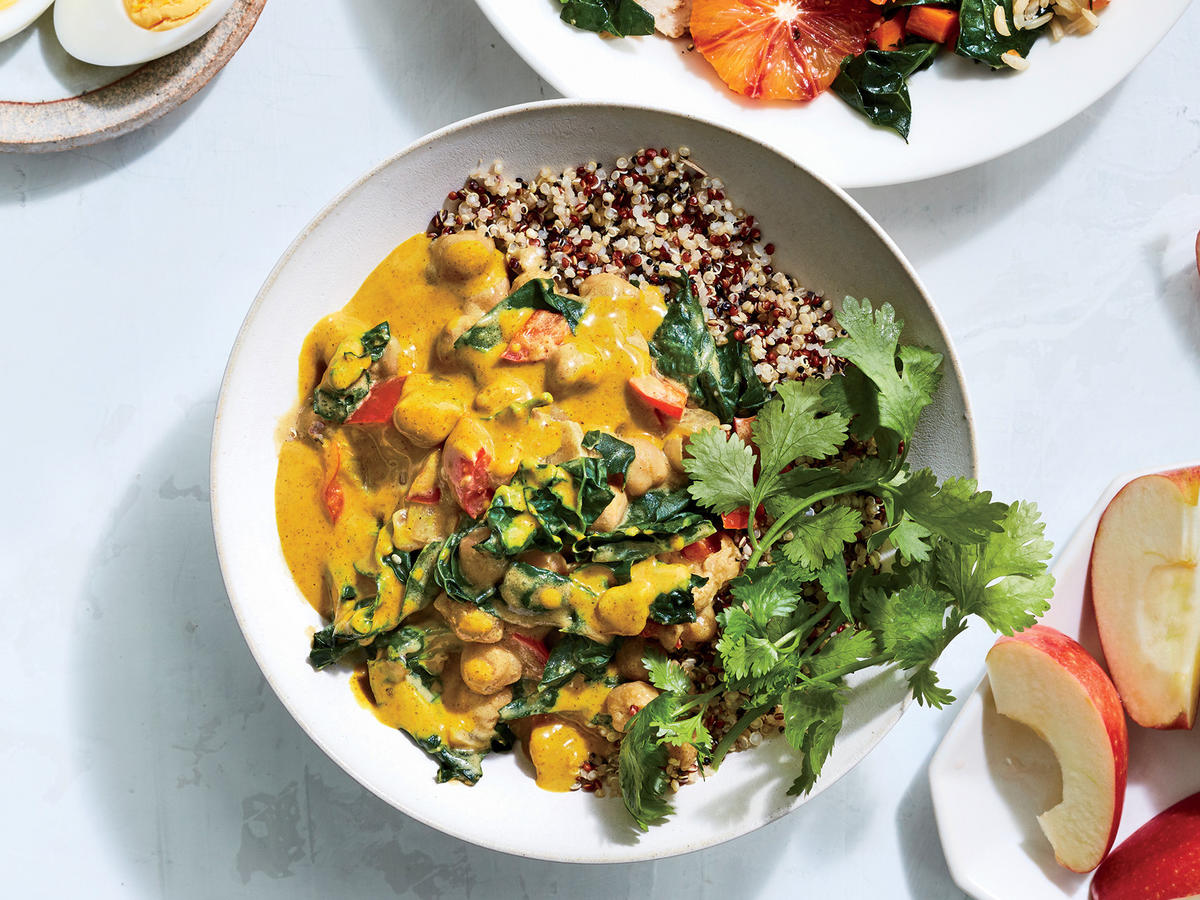 Heat oil in a large nonstick skillet over medium. Add bell pepper and onion; cook, stirring occasionally, until softened, about 5 minutes. Add kale and garlic; cook, stirring often, until kale is softened, about 2 minutes. Stir in curry powder, ginger, salt, and pepper. Add peanut butter; cook, stirring constantly, 30 seconds. Stir in coconut milk and chickpeas, and cook, stirring occasionally, until sauce starts to thicken slightly, 12 to 14 minutes. Remove from heat; stir in lime juice.

Place 1/2 cup cooked quinoa in a bowl. Top with 1 cup curry mixture and cilantro sprigs. Refrigerate or freeze remaining quinoa and curry for later use.