Vegan Broccoli Potato Soup
This creamy Vegan Broccoli Potato Soup recipe is what dreams are made of. Cheesy, rich and comforting but there's no cheese in sight, it's plant based vegan silly rabbit.  Only cruelty-free recipes on this website, forever and ever.
Nutrition
Calories: 
201
kcal
 | 
Carbohydrates: 
27
g
 | 
Protein: 
10
g
 | 
Fat: 
8
g
 | 
Saturated Fat: 
1
g
 | 
Sodium: 
54
mg
 | 
Potassium: 
893
mg
 | 
Fiber: 
6
g
 | 
Sugar: 
3
g
 | 
Vitamin A: 
1700
IU
 | 
Vitamin C: 
66
mg
 | 
Calcium: 
82
mg
 | 
Iron: 
6
mg
Ingredients:
1/2 cups yellow onion (or leek) chopped
4 cloves garlic -minced
2 pounds golden potatoes (scrubbed, rinsed & diced)
1 large carrot -diced
1 celery stick -chopped
1 cups raw cashews
8 cups vegetable stock
6 tablespoons nutritional yeast
1 pounds broccoli florets
1 pinches sea salt (to taste)
1 pinches red pepper flakes
1/3 cups fresh chives -snipped for garnish
1/2 teaspoons turmeric (optional)
Preparation Time
10
Cooking Time
35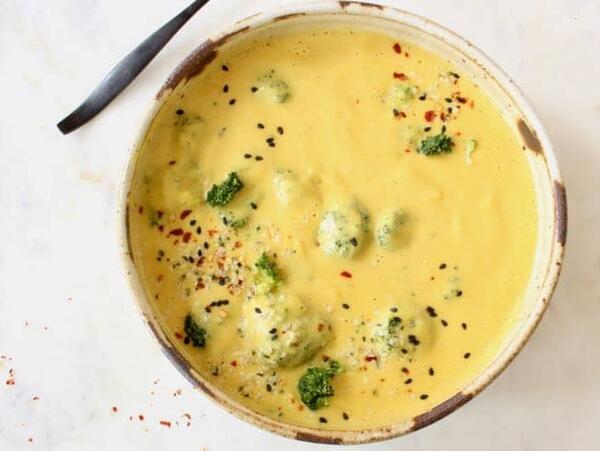 Preheat a heavy stock up over medium low heat and sauté the onion in a splash of water (or a drizzle of olive oil) until translucent.

Add the sea salt, pepper flakes, celery and carrots and give everything a nice toss. Cover with a lid and sweat a few more minutes until the carrots begin to soften.

Add the garlic, potatoes, cashews and vegetable stock and bring everything to a simmer. Stir in the nutritional yeast, cover with a lid and cook 20 minutes or until the potatoes and cashews have softened.

Transfer the soup to a powerful mixer and carefully purée until silky smooth. ( the Vitamix did an exponentially better job at this than my immersion blender).

Transfer the creamy soup back to the pot and bring to a simmer again. Add the broccoli florets, cover with a lid and cook a few more minutes until the broccoli is softened to your liking. Take good care not to overcook it, 3 to 5 minutes should yield that perfect al dente texture. Alternatively you can steam the broccoli separately while your soup is cooking.

Taste and adjust seasoning with the sea salt. Add more vegetable stock at this point to thin out the soup if you prefer.

Serve hot with extra red pepper flakes and the fresh chives.