Ingredients:
1 cups raw whole almonds
1 pounds Good-quality dark chocolate (60% to 70% cocoa solids), chopped
1/2 cups soft goji berries
Preparation Time
12 mins
Cooking Time
16 mins + 40 mins Chilling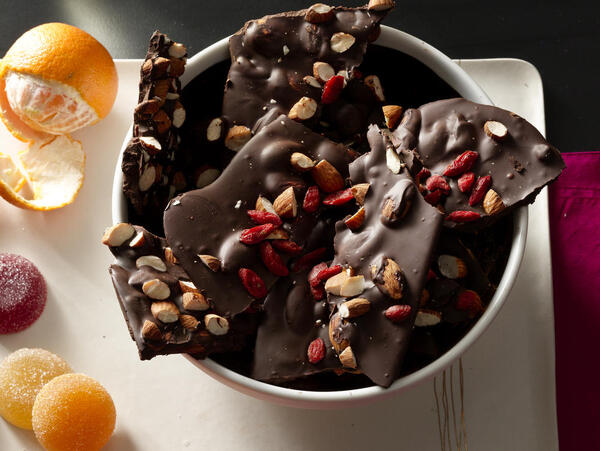 Preheat oven to 350ºF. Spread almonds on a rimmed baking sheet. Bake, shaking pan occasionally, until toasted and fragrant, about 12 minutes. Transfer to a plate and let cool.

Line a separate large baking sheet with Silicone Baking Mat or nonstick foil. Melt chocolate in a heatproof bowl set over a saucepan of simmering water. Stir chocolate until smooth, about 4 minutes. Remove bowl from heat and stir in half each of berries and nuts.

Immediately pour chocolate mixture onto pad or foil; spread evenly into a 16-by-11-inch rectangle. Sprinkle with remaining berries and nuts, pressing gently into chocolate. Chill for 30 to 40 minutes or until very firm. Break into about 34 3- to 4-inch pieces. Store between pieces of parchment in an airtight container in a cool place.