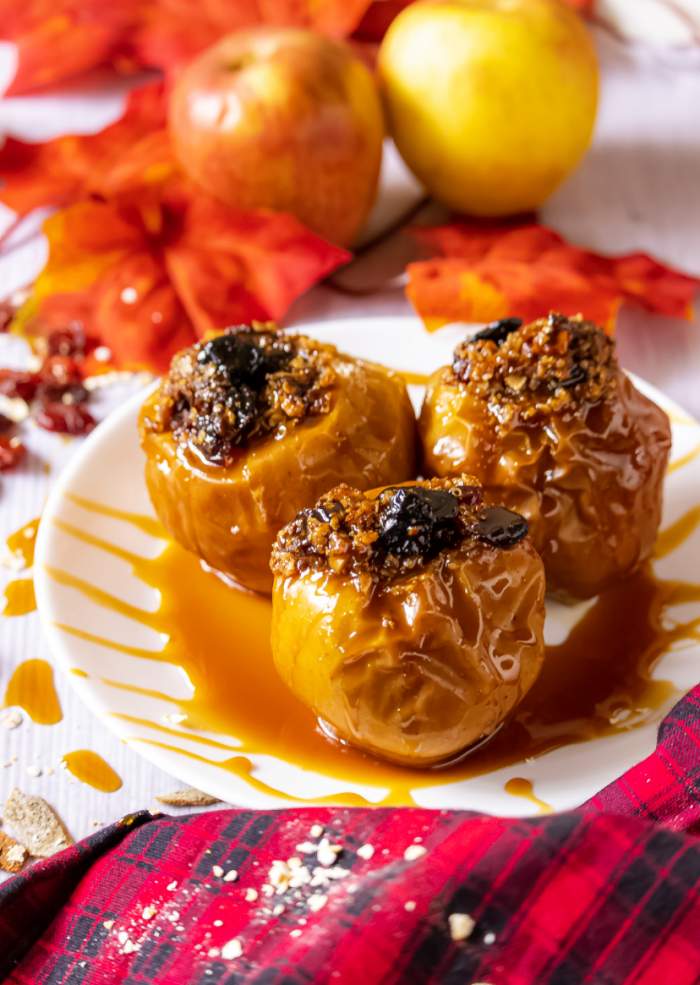 Stuffed Baked Apples with Walnuts, Raisins, and Cranberries
Stuffed Baked Apples with Walnuts, Raisins, and Cranberries is a classic Fall and Holiday Dessert recipe that gets done in simply no time. Stuffed with all the good things these baked apples are gonna do wonders for your Holiday Party or Fall Potluck.
Ingredients:
4 Apples
3 tablespoons Unsalted or Vegan Butter
1/2 teaspoons Ground Cinnamon
1/4 teaspoons Ground Ginger
1/4 teaspoons Ground Nutmeg
1/4 cups Whole Rolled Oats
2 tablespoons Raisins
2 tablespoons Chopped Walnuts
3/4 cups Warm Water
Preparation Time
15 mins
Cooking Time
45 mins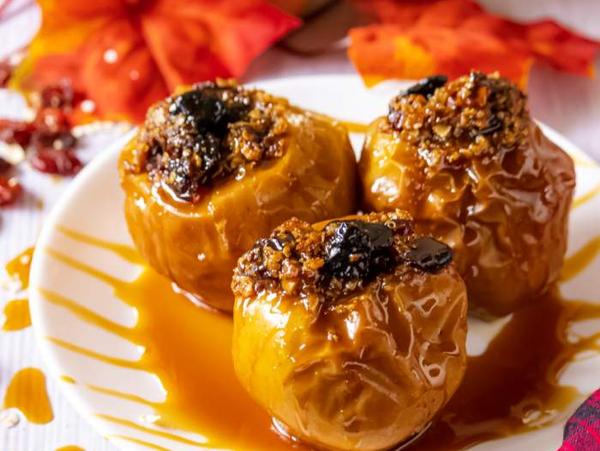 Preheat oven to 375°F (191°C)

Use a handheld mixer or a stand mixer fitted with a paddle attachment or just a fork or a spoon to beat butter, sugar, cinnamon, ginger, and nutmeg. You need to stir it until it's completely combined. Now stir in oats along with raisins, dried cranberries. and some chopped walnuts. Keep it aside.

Either use a sharp paring knife with a spoon or simply an apple corer to core the apples. I used a sharp paring knife. First, hold the apple steadily with your hand and keep it on a cutting board. Now Cut around the core about halfway into the apple. Now use a spoon to dig out this core. This step requires a bit of patience. Once you've taken out the core, use a spoon to scoop out any leftover seeds.

Keep the cored apples on a 9-inch baking pan or a cake pan or a pie dish. Spoon filling into your apples. Fill all the way to the top. Pour some warm water into the pan so that your apples don't dry out and burn.

Bake these stuffed apples for 40-45 minutes or until the apples look soft. If you want them to be mushy and softer then bake them a little longer. Baking time will also depend on how firm your apple is.

Remove the baked apples from the oven. You can also baste the outside of apples with the juices that you see in the pan. This adds more moisture to the skin of the apples and makes it more flavorful, but this is totally optional. Serve with Salted Caramel or Whipped Cream. You can store the leftovers covered in the refrigerator for up to 2 days.