Vegan Bok Choy Indian Curry
Ingredients:
2 tablespoons coconut oil or olive oil
1 onion peeled and finely diced
2 cloves garlic peeled and finely chopped
1 tablespoons curry powder
1/2 teaspoons ground tumeric
1/2 teaspoons ground fenugreek
1 tablespoons fresh grated ginger
2 bok choy washed, feet removed, and roughly chopped
14 ounces unsweetened coconut milk or full fat coconut cream
1/2 cups vegetable stock
Preparation Time
15 mins
Cooking Time
15 mins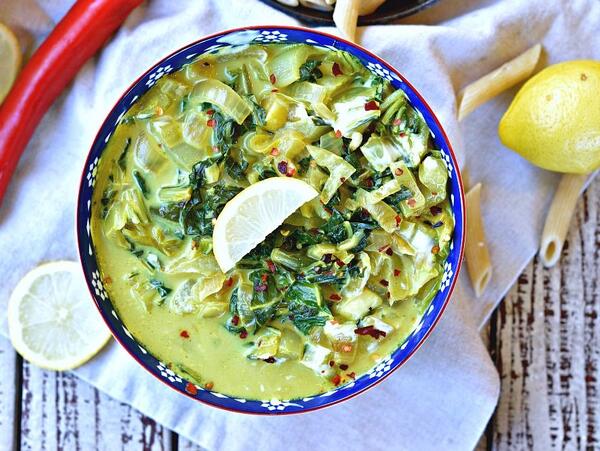 Heat oil in a large skillet, add onions and garlic. Stir fry for 1-2 minutes max or until fragrant and golden.

Add all the ground spices: curry powder, turmeric, fenugreek and grated ginger. Stir fry 30 seconds to 1 minute until fragrant.

Add the roughly chopped Bok Choy and toss with tongs until it wilts, then cover and reduce to medium/low heat to simmer 3-4 minutes.

Uncover and cook for 3 - 4 minutes on high/medium heat to evaporate the vegetable juice slightly.

Stir in coconut milk and vegetable stock, then continue cooking for 10 more minutes until a thick liquid reduces.

Serve with a squeeze of lemon juice, chili flakes, and fresh coriander.