Mediterranean Baked Sweet Potatoes
Ingredients:
4 medium sweet potatoes
15 ounces chickpeas soaked
1/2 tablespoons olive oil
1/2 teaspoons cumin
1/2 teaspoons coriander
1/2 teaspoons cinnamon
1/2 teaspoons smoked or regular paprika
1 pinches sea salt or lemon juice (optional)
1/4 cups hummus or tahini (sauce)
1/2 medium lemon, juiced (sauce)
3/4 - 1 teaspoons dried dill (or sub 2-3 teaspoons fresh dill) (sauce)
3 cloves garlic, minced (sauce)
water or unsweetened almond mylk to thin (sauce)
sea salt to taste (sauce)
1/4 cups diced cherry tomatoes (optional topping)
1/4 cups chopped minced parsley (optional topping)
2 tablespoons lemon juice (optional topping)
Chili garlic sauce (optional topping)
Preparation Time
5 mins
Cooking Time
25 mins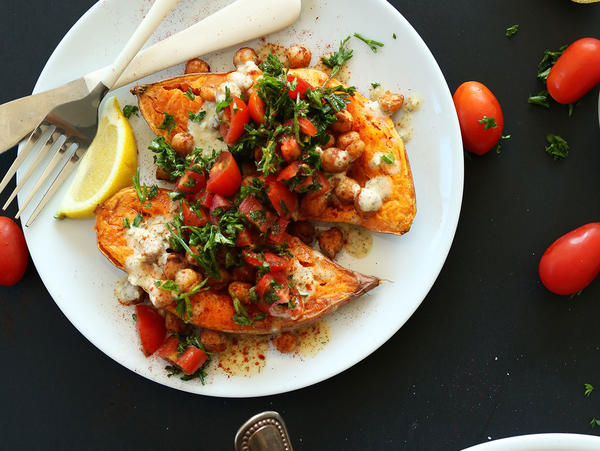 Preheat oven to 400 degrees Fahrenheit and line large baking sheet with a silicon baking sheet.

Rinse and scrub sweet potatoes before cutting them in half length wise.

Toss rinsed and drained chickpeas with olive oils and spices, then place on the already prepared or a separate silicon lined baking sheet.

Rub the sweet potatoes with a bit of olive oil and place face down on the already prepared silicon line baking sheet.

Place both the chickpeas and sweet potatoes in to the oven for roughly 25 minutes, when the chickpeas are golden brown and the sweet potatoes are fork tender.

While the sweet potatoes and chickpeas are baking, prepare the garlic herb sauce by adding all of the ingredients to a mixing bowl and whisking to combine, only adding enough water or almond milk to thin so it can be poured. Adjust seasonings to taste as needed, especially if you are using tahini over hummus for the sauce.

Prepare the optional parsley-tomato topping by tossing the diced tomatoes and minced parsley with lemon juice, then setting aside to marinate.

To serve, flip the potatoes flesh-side up and smash down the insides a little bit. Then top them with chickpeas, the garlic herb sauce, and parsley-tomatoes salad. Chili garlic sauce can also be added as well. Enjoy immediately.