Vegan Tomato Zucchini Casserole
Ingredients:
3 large zucchinis, thinly sliced
2 cups pureed tomatoes
6 cloves mashed garlic
1/4 cups chopped parsley
1/2 cups chopped green onions
1 lemon, squeezed
1 tablespoons vinegar
3 tablespoons olive oil
2 teaspoons salt
1 teaspoons black pepper
1 teaspoons chili powder
Preparation Time
15 mins
Cooking Time
45 mins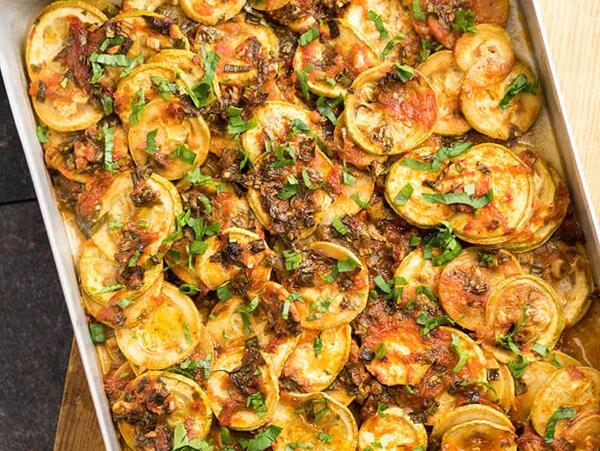 Preheat the oven to 350 degrees Fahrenheit.

Mix pureed tomatoes, garlic, parsely, green onions, lemon juice, vinegar, olive oil, and spices in a medium bowl.

Put zucchini slices in a large bowl and pour the pureed tomato mixture over them. Stir well using your hand so that each zucchini slice is coated with the red sauce.

Transfer them into a large baking dish so that the layer is not very thick. Bake for about 45 minutes or until the top gets golden.

Serve hot or cold.